[caption id="" align="aligncenter" width="529"]
Photo by Phil Holland @ Salt Test II Duclos Lenses[/caption]
In a recent post I declared that it's better to invest in glass than in cameras since new cameras come out every few months. I wasn't just saying that to get people to buy glass, I meant it. Just this year there have been at least half a dozen cameras released or announced, if not more. With more cameras there comes more choices for lenses. Wether it's a BlackMagic camera with it's mighty little crop sensor or the new 5DMk14B-R whatevermagig. Lenses will always be required for cinema and in todays economy it's all about compromise. So where do you compromise and what lenses make the most sense for you? 
Well... It's a bit more complex than that. It depends on what you're shooting and how you shoot it. If you're doing nothing but corporate interviews with nothing but static shots tied to a tripod, you're probably going to be okay with the minimum amount of gear investment. If you're shooting low-budget features or even high-budget music videos or the like, you're going to want something a bit more dedicated to motion picture work and will probably be a higher point of entry and a higher cost all around in terms of glass. To keep things simple, we're going to go with the budget-concious, all around shooting setup that should be good for just about any type of work. A sort of general setup if you will. My first suggestion would be a good go-to set of prime lenses and I don't mean the season's crop of Canon L lenses. Those will do fine for shooting family vacations and the baby taking it's first steps but they really aren't going to cut it for good cinematic results. Sure, their image is decent but they just
don't have the guts
to keep up with the rest of the industry. I'm a huge proponent of the Zeiss ZF.2 series and the Leica R series. They're both very similar in that the materials used are high quality and their build quality is nothing less than premium in terms of DSLR lenses. Their price is high compared to primes from Nikon or Canon but they are less of a compromise and that's really the goal here: to minimize the effects of compromise. The Zeiss ZF.2 lenses are still begin produced by Zeiss and their range of primes continues to grow. The Leica R lenses, on the other hand, are no longer produced by Leica and can be a bit tricky to find since they're pretty much all used lenses or old new stock. They also have the word Leica engraved on them which automatically adds at least 50% to any price tag ;) If primes aren't your thing because you need more versatility for run and gun shooting or you simply want to select a focal length and shoot, zooms may be your best option. There are very few photo zooms that will work well for motion picture for the same
reasons that photo primes don't work well
. Image shift caused by cheap, loose components can devastate a shot and really separate the pros from the newbs. A photogs go-to set of zooms would be something like a 14-24mm, 24-70mm, and 70-200mm. That covers you from 14mm all the way to 200mm, seamlessly in just three lenses. A task that would require 186 different prime lenses and would likely cost you more than a house (or two). The problem with the standard set of zoom lenses is they really aren't well suited for motion picture with the exception of a few lenses which I'll go over now. I have a few requirements that must be met for me to consider a lens "good" for cinema applications.
Manual Focus
Manual Aperture
Constant Volume
Quality Materials
Repeatable Focus
Stability (zoom/focus)
If you look for a lens that has all six features, you're going to find yourself purchasing an Angenieux Optimo zoom lens. You're simply not going to find all of these features in a still photo lens. The best thing to do is to decide which features are most important to you and aim to meet no less than half of the required features. As I mentioned in the first paragraph of this post, using still lenses for cinema is a compromise. The goal here is to minimizing the compromise and figure out what works best for you. A lot of shooters starting out are using Canon L lenses on an Red Epic or a Canon C300 which is fine, but lets look at the features, for example, of a common Canon L zoom lens, the
24-70mm f/2.8 L
: Let's go through out check list of features and see how this common Canon L zoom holds up... [caption id="" align="aligncenter" width="540"]
Canon 24-70mm f/2.8 L
[/caption]
✓ Manual Focus
✗ Manual Aperture
✗ Constant Volume
✗ Quality Materials
✗ Repeatable Focus
✗ Stability (zoom/focus)
The
Canon 24-70mm
only has one out of six of the features listed above. This lens won't work well for motion picture but it will still get the job done. Lenses like this can be helped a little bit by adding a Cine-Mod package but it won't benefit entirely. For example, it can't be de-clicked which means you can only select an aperture through the cameras controls which are restricting at best. It can benefit from a focus and/or zoom gear to attach motors or a follow focus, but this won't improve image stability at all. Overall, in my opinion, this lens is too much of a compromise. The same can be said for just about any of the Canon L series lenses. Another example would be the
Canon 70-200mm L
which everybody loves for sports, nature, and just about any telephoto shooting. There's no doubt that it's an amazing lens for still photography, but how does it do with our checklist? [caption id="" align="aligncenter" width="540"]
Canon 70-200mm f/2.8 L
[/caption]
✓ Manual Focus
✗ Manual Aperture
✓ Constant Volume
✓ Quality Materials
✗ Repeatable Focus
✗ Stability (zoom/focus)
So the 70-200mm comes out right in the middle with three of the six features passing. I would say that this lens would work well enough for motion picture work but it's obviously still a compromise in several ways. Again, the goal is to decide which three features are most important to you and your style of shooting. This 70-200mm does feature Canon's image stabilization which does wonders for still photography at fractions of a second but isn't going to correct large jumps in the image while focusing or zooming a lens with poorly executed materials and components. On top of the disappointing feature set offered by Canon lenses, they're lack of versatility is a killer for me. They will only work on cameras that feature an electronic Canon Eos mount which is quite limiting, but slowly broadening with the release of electronic mounts for the Red Epic and BlackMagic camera. So we have two pro level Canon L lenses, one of which didn't pass the feature test and another just barely makes the cut. So what zoom lenses will work well? I've found that the most desirable compromise (sounds odd...) is pre-gelded Nikon zoom lenses such as the
17-35mm f/2.8
,
28-70mm f/2.8
, and
80-200mm f/2.8
. All three of these zoom lenses were well built using mostly alloys and reliable materials instead of plastic. They all feature a fully manual zoom, focus, and iris, and they can all fully benefit from the Duclos Cine-Mod by accepting 80mm front rings, zoom and focus gear, and a smooth de-clicked aperture. They do still have their drawbacks but certainly less than the previous Canon lens lineup. Nikon no longer produces these lenses which means that you'll have to find them second hand and sort through what may very well be some dubious eBay and Craigslist ads. But it may be worth it if you require more cinematic lens features. Let's explore... [caption id="" align="aligncenter" width="560"]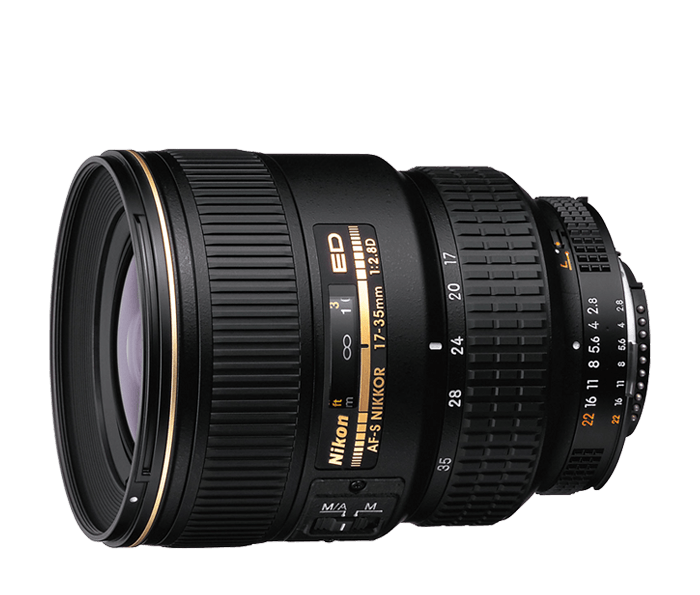 Nikkor 17-35mm f/2.8
[/caption]
✓ Manual Focus
✓ Manual Aperture
✓ Constant Volume
✓ Quality Materials
✗ Repeatable Focus
✗ Stability (zoom/focus)
Still not perfect but four out if six is getting pretty close to a cinema lens. The image shift is going to be a problem with just about any auto focus still lens. It's simply the nature of the beast. I chose to decline the repeatable focus feature of this
Nikkor 17-35mm
because it simply won't nail the same mark every time you pull focus. It's not a problem if you're eye focusing or if you're pre-focusing and then shooting, but if you're going to be taping out marks and racking focus during a shot there is a good chance you'll miss your mark more often than not. Auto focus lens manufacturers stopped caring about focus mark accuracy since the camera hunts, finds, and nails focus every time with the help of their dedicated auto focus systems. These same feature sets can be found with the other two Nikkor zooms I mentioned above, the 28-70mm and the 80-200mm. the only exception is the 28-70mm which does not maintain it's volume throughout the zoom. It does telescope forward a bit which can be a pain if you're using a matte box or filter tray. The other benefit to the Nikkor lenses is their legacy Nikon F-Mount that can be adapted to a  variety of other mounts including Canon Eos mount. And if it can't be adapted to the mount you need, there's a good chance there is a replacement mount for the camera that accepts Nikon F-Mount lenses. One way or another, there's usually a way to get a Nikon lens mounted to any given camera. However, there is an exception. Nikon introduced their G series lenses recently which still uses the same mount but lacks a manual aperture ring. Not a deal breaker if your adapter is G-lens compatible, but it's just one more feature that the newer style Nikon G lenses lack. A perfect example would be the 17-55mm Nikkor which replaced the 17-35mm lens we just covered. The specs are very similar but in my opinion, not quite acceptable. [caption id="" align="aligncenter" width="560"]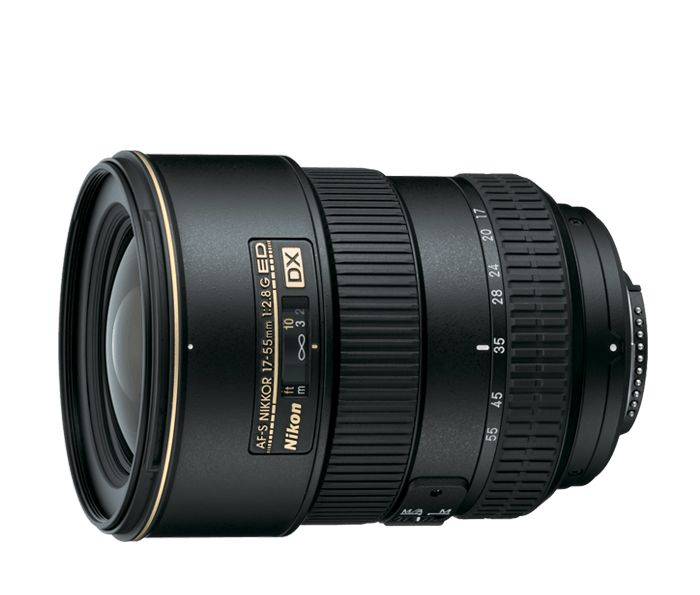 Nikkor 17-55mm f/2.8 G
[/caption]
✓ Manual Focus
✗ Manual Aperture
✓ Constant Volume
✗ Quality Materials
✗ Repeatable Focus
✗ Stability (zoom/focus)
Only two out of six in this case. Sadly, Nikon used cheaper components in it's newer series lenses to cut costs which is great for consumers, but as with any price reduction, you're going to lose features. The same, for the most part, goes for their newer generation zooms in this same series which are also gelded and lack a manual aperture ring, the 14-24mm,  24-70mm, and 70-200mm. Don't get the wrong idea... These lenses are amazing for still photography with their lightning fast auto focus motors and advanced anti-reflective coatings. But they simply don't hold up when it comes to motion picture applications. All of the lenses I've gone ver so far are usually about $2,500 or less and this plays a big part in their feature set. Canon saw the need for quality motion picture zooms and announced their new cinema zoom lenses and primes that actually look quite nice. But of course, the price tag follows their features. I'll be doing more reviews on those later... The only other alternative that comes to mind is a very narrow selection of Leica R series zooms which can be quite quirky. I can't say enough good things about Leica R-Series primes, but their zooms are another story. While they are capable of producing some stunning images, they simply aren't very well suited for cinema. Different reasons for different lenses but it's safe to assume that at least two of the required features won't be met when it comes to the Leica R zooms. The best thing to do is to go out and try as many lenses as you can. See what works for you and find your ideal compromise. That is, unless you're looking to spend upwards of $20k for a cinema quality zoom lens or set of primes. If you ARE looking to drop tens of thousands on a true cinema zoom, I suggest you do your homework first. ;)